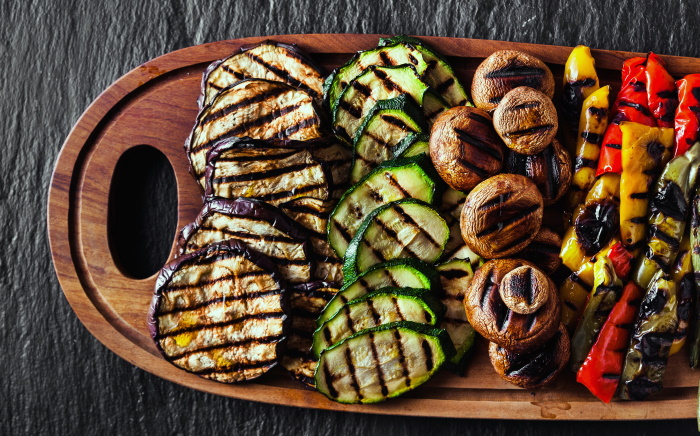 *photo is illustrative

Veggies for grilling:
1 zucchini;
1 aubergine;
4 shallots;
250g champignons or button mushrooms;
2 red or yellow bell peppers;
For the vinaigrette:
4 garlic wedges;
½ chili pepper;
a small parsley bunch;
olive oil;
balsamic vinegar;
Gardener's dry apple cider;
salt, pepper, sugar.
Preparation:

Wash all veggies, dab them dry and cut up in slices fit for grilling. Put a grill pan (alternatively - a regular non-stick pan) on medium-high heat and when it's hot, cook the veggies from both sides for a short period of time without oil or grease. The veggies should be browned from the outside but still fresh/raw on the inside. Place in a large dish or bowl. Separately, prepare the vinaigrette in a small bowl. Finely chop the garlic, chili and parsley, add to the bowl. Then add olive oil, balsamic vinegar and Gardener's dry apple cider. Season to taste with salt, pepper and sugar. Using a fork, whisk the vinaigrette until evenly mixed. Pour the vinaigrette on the vegetables and toss together until evenly coated. This side dish can be served fresh while hot, or left to marinate for a few hours. Serve paired with a glass of chilled Gardener's dry apple cider.
Author of recipe - our friend, chef Toms Melkis.