Salmon in beetroot and soy sauce marinade, with zucchini salad and lime cream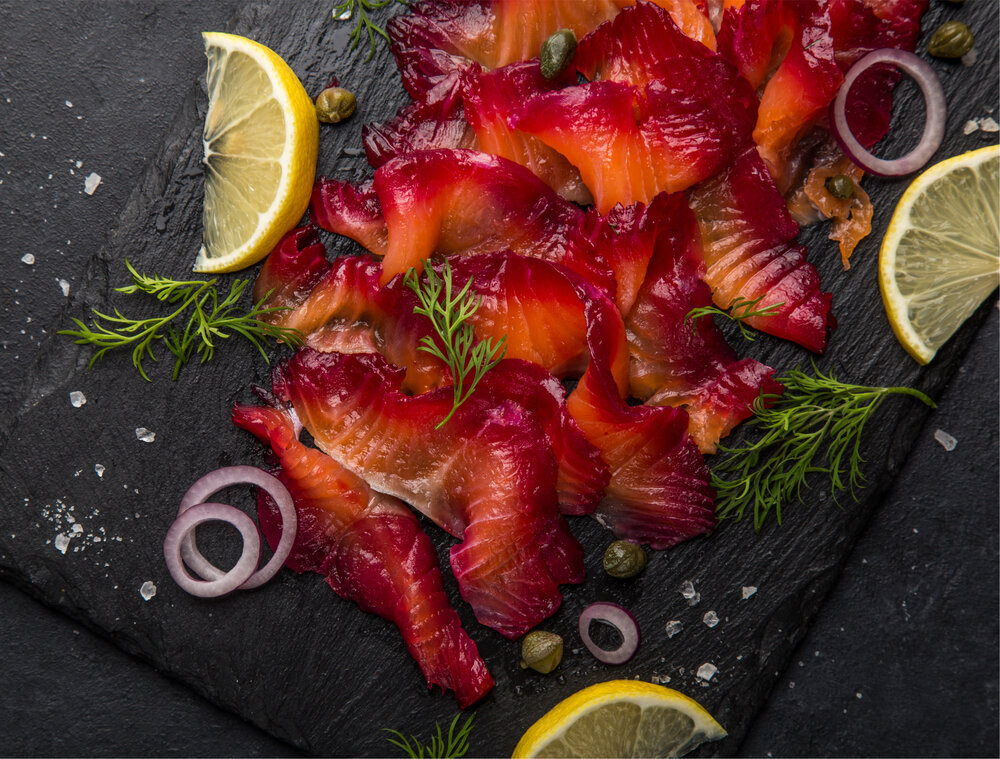 *illustrative photo
Serving recommendation: pair with a glass of our "Sidrella" or an Aperol Spritz.
Ingredients:
Marinade:
1 boiled beetroot,
50 ml light soy sauce,
1 tsp cumin,
1 tbsp sugar,
1 tbsp salt,
Lime cream:
200ml double cream,
zest of ½ lime,
juice of ½ lime,
½ tsp salt,
1 tsp sugar,
Zucchini salad:
1 small zucchini,
salt,
lemon or lime juice.
Instructions:
Use tweezers to remove fish bones from the salmon. Blend all the ingredients for the marinade in a blender. Pour ½ of the marinade in a Tupperware box, then place the salmon in the box and pour over the rest of the marinade and make sure the salmon is completely covered in the mix. Leave in fridge overnight. Before serving, remove the salmon from the marinade, dry off with a paper towel and use a sharp knife to cut into thin slices.
For the lime cream, pour the double cream, salt and sugar in a bowl and whip into firm foam, then add lime juice and zest. For the salad - cut the zucchini into spaghetti-like strips, sprinkle with salt and lemon or lime juice. Serve with a slice of toast or other bread, and a glass of our Sidrella or an Aperol Spritz.
No comments
Leave a reply