Hearty onion soup
April 23, 2020 at 4:53 pm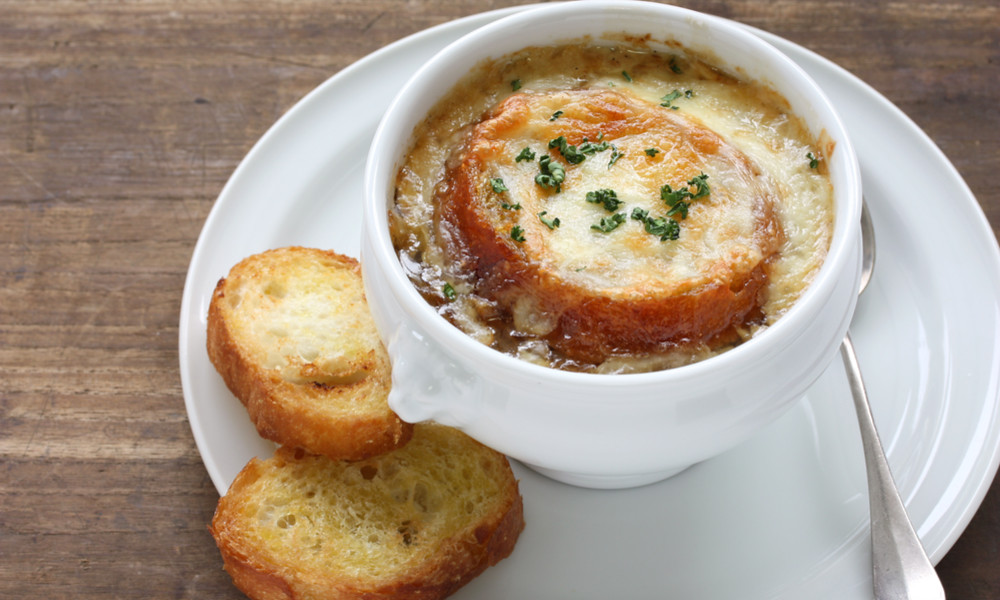 *illustrative photo
100 g butter,
6 onions,
2 garlic cloves,
1 l veggie or chicken stock,
1 tbsp wheat flour,
0,6 l Gardener's dry apple cider,
2 bay leaves,
6 slices white bread,
150 g intensive cheese, e.g. Cheddar,
salt and pepper to taste.
Preparation:
Slice the onions and put them in a bowl with finely diced garlic cloves, and douse with flour. Melt butter into a soup pot and add the onions, shaking off excess flour beforehand. Fry on low heat until soft and golden - don't let the onions overcook! Pour stock and cider into the pot, and add bay leaves. Depending on the intensity of the stock, add salt and pepper as you see fit. Boil for ca. 15 minutes, until onions are well cooked. As the soup boils, cover the bread slices with cheese, lay them on a pan and bake in the oven until cheese is molten and starts to brown. Pour the soup in bowls and place a slice of cheese toast in each.
Alternatively - if clay stew pots are available, pour soup in those. Toast the bread and grate the cheese. Each pot of soup is "closed" with a layer of toast and shredded cheese. Place the pots in the oven and bake until the cheese melts and forms a golden crust.
Serve with dry cider or white wine.